Choosing a laptop these days can be a hard choice to make as there's such a large variety of laptop manufacturers and models. To make this easier you should evaluate your requirements, such as what you're going to do with the laptop. The DV6-6138TX is built for power users who need a bucket load of RAM and a super fast CPU, ideal for multitasking and gaming.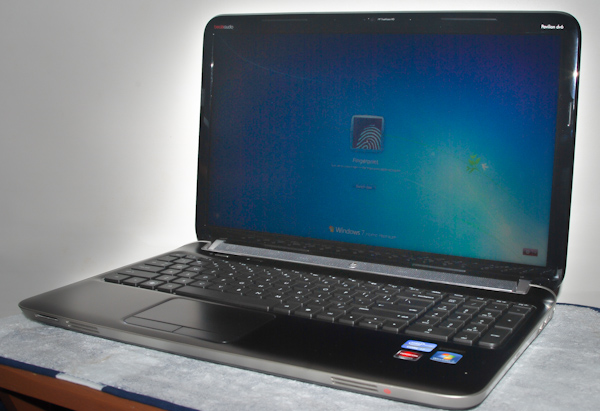 Specifications
Operating system

Genuine Windows® 7 Home Premium 64Bit

Processors

Intel® Core™ i7-2630QM
• 2.00 GHz (Turbo 2.9GHz)

Chipset

Intel HM65
Memory

Standard memory

8 GB 1333 MHz DDR3 (2 x 4 GB)

Memory, maximum

Upgradeable to 8 GB DDR3
Storage

Internal drives

1 TB SATA (5400 rpm)

Optical drive

Blu-ray ROM with SuperMulti DVD±R/RW Double Layer
Graphics

Display size (diagonal)

15.6″ Full HD HP Anti-glare LED Display

Display resolution

1920 x 1080

Graphics

ATI Radeon HD 6770M (2 GB GDDR5)
Expansion features

Ports

1 VGA
1 HDMI
2 SuperSpeed USB 3.0
2 Headphone out (Stereo)
2 USB 2.0
1 microphone in
1 RJ-45 / Ethernet

Slots

Multi-Format Digital Media Card Reader for Secure Digital cards, Multimedia cards
Media devices

Webcam

HP TrueVision HD Webcam with Integrated Digital Microphone

Audio features

Beats Audio™ Quad speakers; Beats Audio™ Audio playback
Communications

Network interface

Integrated 10/100/1000 Gigabit Ethernet LAN

Wireless

802.11 b/g/n
Bluetooth (WiDi)
Dimensions and Weight

Weight

2.54 kg

Dimensions (W x D x H)

37.8 x 24.68 x 3.52 cm
What's included

Warranty

1 year, parts and labor

Software included

Multimedia and Entertainment (Software may vary in different countries):
Cyberlink Youcam
Adobe Flash Player
Adobe Shockwave Player
Product Support (Software may vary in different countries):
HP Setup
HP Support Assistant
User Guide Documentation
HP ProtectSmart
Recovery Manager
Symantec™ Norton Internet Security™ 2011 (60-day trial)
Productivity and Lifestyle (Software may vary in different countries):
Adobe® Reader®
Windows® Live™ Essentials
HP Wireless Assistant
Microsoft office 2010 Starter
Cyberlink DVD Suite
Omnifone™ International Music Station
HP Cloud Drive
HP Power Manager

Product color

Dark Umber, Metal Finish
 Unboxing / Packaging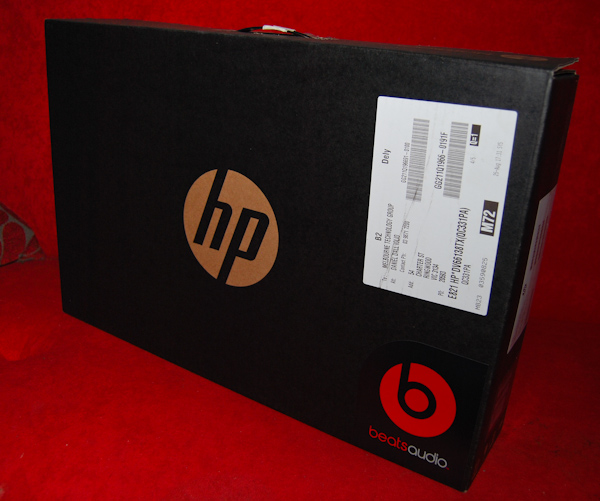 The laptop came in a nice sturdy black cardboard box (pictured above), unboxing it revealed the common stuff such as manuals, warranty forms and most importantly the charger. A little disappointed in finding no carry case or bag was supplied with this laptop so you will need to buy one however I believe a basic one should be at least included as this laptops RRP is $1,699.
Quality / External Features
First off I noticed that it's complete outer and inner (around keyboard) casing is finished with a brushed dark umber metal which looks flash however it's a very soft material that's prone to scratching easily (pictured below).
The power input inserts into the right side which might be annoying if you have a tight space and are using a mouse. A better opposition would be the rear of the laptop in my opinion.
It's has nice amount of USB ports (2x 2.0 and 2x SuperSpeed 3.0 ports) which are located two to a side. Another handy feature is the duel headphone output sockets, this allowed you and a friend to wear separate headsets while listening to the same audio. Audio wise externally it has 4 speakers, 2 located at the bottom of the display and 2 at the front of the laptop case.
It's got an integrated HP TrueVision web cam that can record at 1280×720, the external is bare though it's a nice clean design so extra things like the bulky media buttons won't be missed from previous DV6 models.

The only touch pad I've ever seen to work correctly are by Synaptics, and you're in luck as this has the latest design by Synaptics (v7.5). However if you've got sweaty hands or fingers it leaves a pretty obvious marks on the brushed metal and on the touchpad but can be easily cleaned off.
If your worried about typing your password in a public place or like having the extra security, the DV6 features a biometric fingerprint scanner. This allows you to log in without the use of a password, all you need is a fingerprint registered on the laptop. You can override the feature with a password and log in normally if you wish.
Overall build quality feels quite nice, doesn't feel cheap. At 2.54kgs it's a light weight compared to other laptops in the same price range.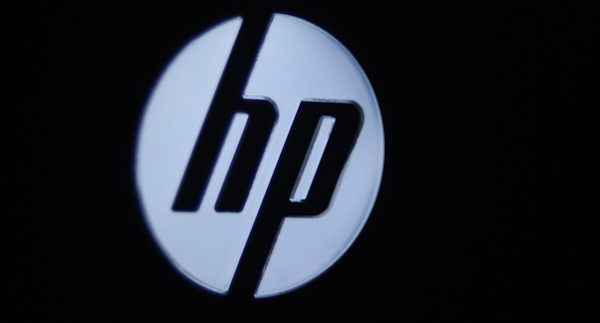 A unneeded feature is the glowing HP logo which resides on the back of the display cover, its purely a waste of battery in my opinion. Back-lit keys would be a much better way of using the LED.
Performance
A nice feature provided by Hewlett-Packard is the full high definition (1920×1080) LED 15.6 inch display. It's specification sheet states that it's actually an anti-glare LED but with my own testing it has glare in direct sunlight and when using it next to an office lamp though it's not very noticeable.
The sweet spot of the DV6 is the powerful Intel i7 (2630QM) 2.0GHz quad core CPU with hyper-threading which gives you a massive 8 CPU threads. Even better that it can safely automatically overclock it self up to 2.9GHz when it needs the extra power, Intel call this technology "Turbo".
Next is the dedicated AMD Radeon HD 6770M 2GB which is a fast middle class graphics card, it supports DirectX11, Eyefinity+ and ATI's new UVD3 video decoder. Furthermore the 6770M has an integrated HD audio controller that allows you to transmit HD audio or DTS audio over HDMI.
While the 6770M is a powerful GPU to have this laptop also features a second GPU, an Intel HD Graphics 3000. It's the same sort of GPU you find in some lower end laptops (sub $800~), the great thing about it though is you can select applications or games to use the high-performance of the 6770M or the Intel HD 3000 on the fly.
During my performance testing the Catalyst control center decided on it's own which applications need the extra power, a example is the DiRT3 test it set to the 6770M however when playing the Sims 2 it decided to use the Intel HD 3000. You can change the association within the Catalyst control center at any time. This is a very clever way of saving battery life and generating less heat.
Another nice feature is the 8GB of Samsung DDR3 1333MHz RAM that's installed as standard to this DV6, this actually max's the capacity of the motherboard however 8GB is more than enough for most purposes.
Benchmark Performance
The idea of running 3DMark Vantage was to see how hot the CPU got during the real demanding tests, the hottest temperature the CPU hit was 88c during the CPU test. The cooling fan must have been at 100% as it was quite loud.
Codemaster's DiRT 3 was my second choice as the game doesn't require a mouse or the touch pad to play so it makes it fun game to play while on the move. DiRT 3 defaulted to overall medium graphics settings at 1920×1080.
I used the games built-in benchmarking feature and recorded an average FPS of 68.02 FPS and a minimum of 56.69 FPS which was quite good because it's actually running in DirectX11. Turned down it will reach well over 100FPS average depending on racing conditions (snow).
A less demanding test was the Sims 2 as was just really a test to see how long it would last on the slower GPU before it would go flat. It managed almost 2 and a half hours while using the Intel HD 3000 graphics.
The final game I tested was Team Fortress 2, I recorded a demo in a server of 24 players for 5 minutes. Settings were everything set to high and 2x anti-aliasing and filtering. Peak FPS was 180 and averaged around 120 FPS, lowest was 50FPS which involved 10+ players in close combat.
Overall the ATI 6770M does a great job handling the graphics from today's games and from the past.
Battery Life / Power Consumption
Fully charged the DV6 has 54993 mWh (4 Hours and 15mins) from the 55080 mWh designed capacity, idling it has a discharge rate of roughly 13000 mWh. While browsing with Google Chrome (V14) it's estimated battery life went down to roughly 3 hours which isn't bad considering the hardware it's running.
The charger / power adapter uses maximum of 2.0A which is around 480 watts of power that it can draw which is much less when comparing to the desktop equivalent with the similar specifications.

Communications
Supplied by HP it has a Realtek Gigabit Ethernet LAN port and an Intel Centrino Wireless-N adapter. Also featuring a Bluetooth adapter with WiDi which allows you to connect to WiDi compatible TVs.
Conclusion
After a few weeks of use it's really grown on me, I love the native full HD. I spend a lot of my time away from my desktop PC at motorsport events taking photos, the display allows me to check the fine detail in my photos without needing to load them up on my desktop at home.
It's low power consumption device, only little more than my Acer Aspire D255 netbook. It can run off a 150W car power inverter while on the move.
Pros:
Slick Design
Perfect Touch Pad
Great Sound Quality from th

e Beats Audio by HP.

Light weight
Long Range Wireless
Battery Life
Large Hard Drive (1TB)

 
Cons:
Soft metal prone to scratching

10GB of bloatware (Software pre-installed)

Web Cam (records at 720p but low bit rate)

Keyboard Flex (Just a little)

Cooling fan can be loud  
Review by Jesse Kelly